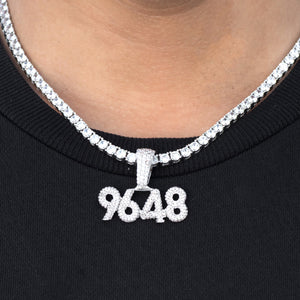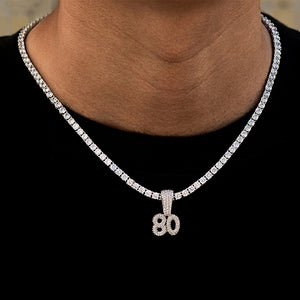 Custom Bubble Number Necklaces
Elevate your jewelry collection with gorgeous, stylish, and unique initial necklaces. DRMD Jewelry is proud to introduce our newest addition - customizable bubble chains. Select numbers for a unique and distinct look. Make an even bolder statement by pairing it with our other selection of pendants or tennis necklaces. This product is handcrafted using precious materials including 18k yellow gold.

- All Numbers (0-9) are available.
- Spaces are not allowed.
- Permitted Symbols: ! # @ $

**Please note, due to the nature of this order, you will receive your unique pendant necklace within 4 - 6 weeks**. Your personalized pendants needs time to craft and test, you'll see it's worth to wait when you're wearing it. We will send you an email as soon as production completed.

Specifications:
- Price is based on numbers input.
- Material Finished: 18k Yellow & White & Rose Gold Plated
- Stones: Flawless VVS Simulated Diamonds (CZ)
- Height: 0.5" x Width: Varies
- Bail size: 6mm

There are NO returns/cancelations on custom necklaces once in production. 

DRMD Jewelry is brings you the Highest Pecialization,Individulization,Customization Standard of Fashion Jewelry.
We are always happy to help you with any queries you may have. Please just contact us.
Email us:drmdjewelry@gmail.com
              Size Chart