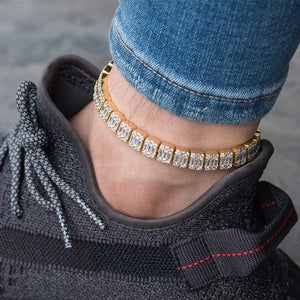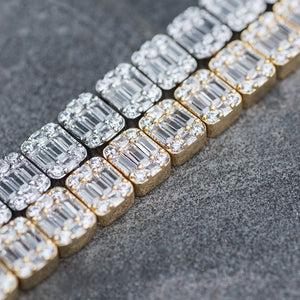 8mm Square Baguette Tennis Anklet in Yellow Gold
The "8mm Square Baguette" Tennis Anklets may seem unique and brave. It can have a big impact on your outfit. Bold and Casual are the perfect words to describe this sparkling Tennis Anklet. Take your Accessory Game to the Next Level with the Square Baguette Tennis Anklets. Whether you are wearing casual or for a special occasions, this anklet will add the missing touch that your outfits needs. Even if you can only take one, your jewelry collection will still receive a major upgrade!

It's the Perfect Drip.

Our anklets Length are all adjustable to fit from 8" - 10"

Specifications 
Material Finished: 18k Yellow Gold Plated

Stones: Flawless VVS Simulated Diamonds (CZ)
Width: 8mm
Length: 8" - 10" 

(Adjustable)
DRMD Jewelry is brings you the Highest Pecialization,Individulization,Customization Standard of Fashion Jewelry.
We are always happy to help you with any queries you may have. Please do not hesitate to contact us.   
 Email us: drmdjewelry@gmail.com