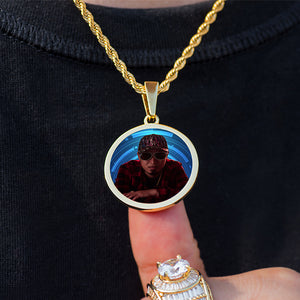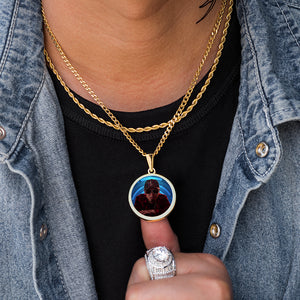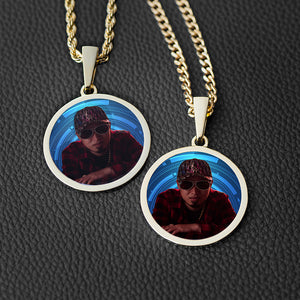 Custom Small Solid Block Round Picture Photo Necklace
Regular price
$97.49
Sale price
$134.99
You perfect engraved gift option in Our collection of Custom Small Solid Block Round Picture Photo Necklace With No Diamonds if you want to touch the heart of your loved ones and impress them beyond expectations. These elegant picture pendants feature impressive timeless designs that will capture the attention of several admirers. It is the best sentimental gifts for special occasions. Choose a necklace from our exclusive collection, and we'll help you personalize it with your picture or that of your loved ones. Order now and let's help you create a timeless piece.

Specifications:
- Size: 1.0" x 1.0"
- Weight: 9.2 grams
- Bail size: 3mm
- Material Finished: 18k Yellow & White & Rose Gold Plated
- Setting: Handmade Micro Pave settings
- Pendant has solid back
- PNG and JPEG file formats ONLY
- Add you personalize Names,Phrases or Dates on the back of necklace
- Chain Length: 18", 20", 22" and 24"
- Chain Width: 3mm Tennis Chain & 3mm Rope Chain & 3mm Cuban Link Chain & 3mm Franco Chain

**Please note, due to the nature of this order, you will receive your unique pendant necklace within 4 - 6 weeks on ALL custom items**. This is a process of smelting, crafting and hand-setting the stones to the piece, so it takes time. But when you're wearing it you'll know it was worth the wait.
There are NO returns/cancelations on custom necklaces once in production. 
DRMD Jewelry is brings you the Highest Pecialization,Individulization,Customization Standard of Fashion Jewelry.

We are always happy to help you with any queries you may have. Please do not hesitate to contact us.   

 Email us: drmdjewelry@gmail.com                
              Size Chart