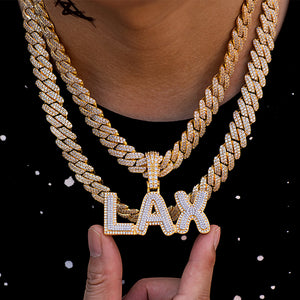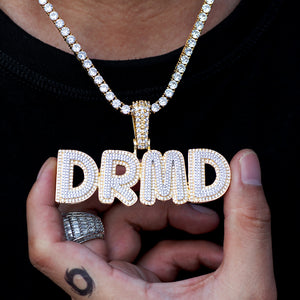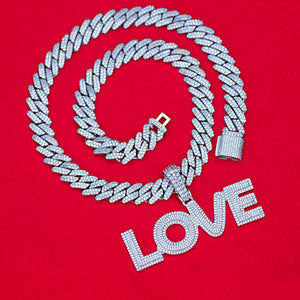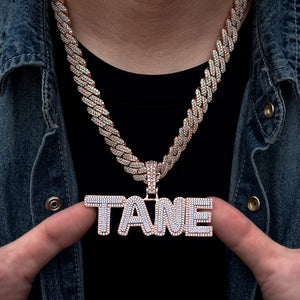 Custom 2 Layer Luxury Name Letter Necklace
Want to make a statement without saying a word? Our Drip Custom 2 Layer Luxury Name Letter Necklace is the bold and unique piece that you need! The two-toned stones are placed with excellent precision by our professional jewelers, and the bails are crafted with clarity that adds to its aesthetic appeal. These Custom Name Necklaces are ideal gifts for your loved ones or rock it on special occasions.

- 26 Letters are available
- Font Letters are Uppercase
- Spaces are not allowed
- No Special Characters/Symbols

**Please note custom chains take about 4 - 6 weeks to craft toperfection**. Your personalized pendants needs time to craft and test, you'll see it's worth to wait when you're wearing it. We will send you an email as soon as production completed.

Specifications:
Price is based on Number of letters input.
Material Finished: 18k Yellow & White & Rose Gold Plated
Stones: Flawless VVS Simulated Diamonds (CZ)
Height: 0.9" x Width: Varies

Letter Weight: 8 grams

All Bails fit up to 12mm Cuban Link
There are NO returns/cancelations on custom necklaces once in production. 

DRMD Jewelry is brings you the Highest Pecialization,Individulization,Customization Standard of Fashion Jewelry.
We are always happy to help you with any queries you may have. Please do not hesitate to contact us.   
 Email us: drmdjewelry@gmail.com    

               Size Chart